All You Need To Know About Nail Drill Bits
 Nail Drill Bits Explained
There are such a large amount of nail drill bit options you must take into consideration when choosing your electric file bits. Nail drill bits are available in a variety of materials, shapes, sizes, and grits, with different uses and purposes for every drill bit.
Having a High-quality nail drill bit you can do more than just take off nail gel, acrylic, or 3d objects from your nails. Having the correct nail drill bit will make your life easier and will prevent wasting your precious time when working on a client. Actually, there are some specifications you would wish to understand before you buy your nail drill bits. If you don't have your nail drill bit yet, please have a look at our top best nail drill bits and explanation on how and when to use it.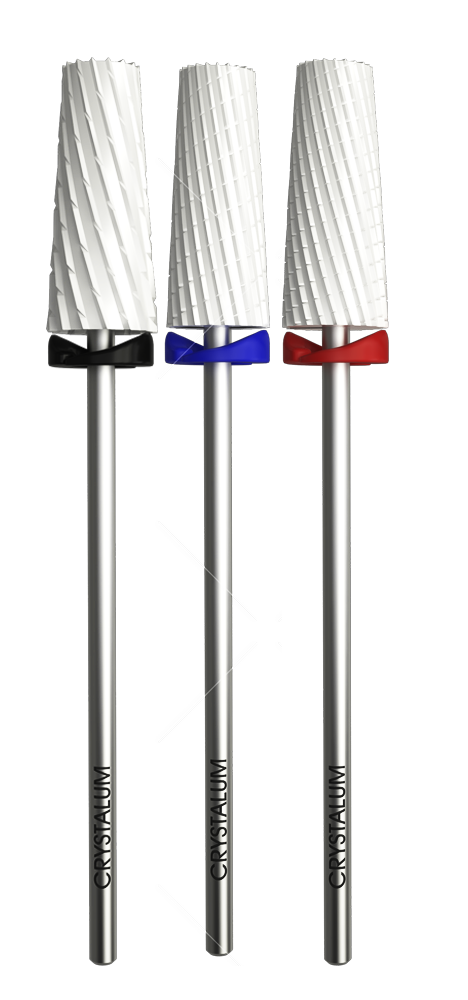 Ceramic Drill Bits
Our nail drill bits are made using the strongest and toughest material—zirconia ceramic. This is a trusted material, used globally for dental equipment and for the latest technological inventions. This material produces far more superior results than regular carbide nail drill bits.
Crystalum™ Ceramic Nail Drill Bits are available in a variety of types and shapes. The benefits are plentiful:
• Antibacterial.
• No clogging.
• Resistant to acid and heat.
• Maximum durability.
• Unrivalled precision.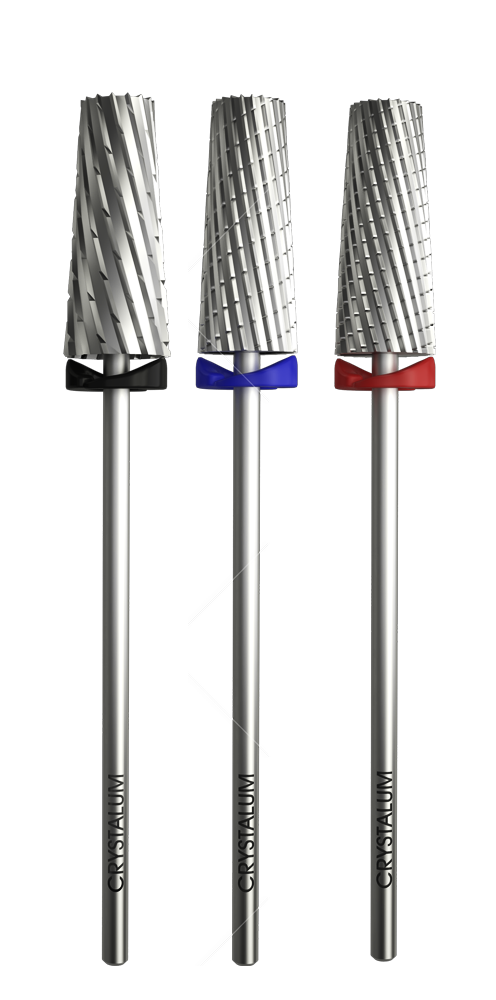 Carbide Drill Bits
The carbide bits are manufactured from carbide metal (and yes, it is 20 times stronger than steel). The carbide nail drill bits are made to be durable and resilient. They have flute-like cuts which enables the carbide nail drill bit to take off nail gel, acrylic or 3D objects and not scratching it just like the diamond nail drill bits. The flutes on the drill bit will determines the scale of the grit. Dip and huge flutes offer you coarse grit. Smaller flutes indicate a finer drill bit. Coarse nail drill bits are perfect tool for experienced nail technicians and are excellent for removing acrylics, nail gel and 3D objects. The carbide bits can be cleaned with a brush. There are such a big variety of nail drill bits you are able to find online; all this information can make it hard to choose which bit you must choose for the good job. In this article, you will find a complete guide for nail drill bits for beginners. The information provided in this column will be sufficient to decide on which nail drill bit is right for you.
CRYSTALUM Electric Nail Drill Bits
Shapes & Uses
CRYSTALUM Large Barrel Bits
Large barrel nail drill bits will do a great work when used on nail surface.  Use large barrel bits for shaping the nail, backfill cutting, shortening, and to create a smile line.
Tip: Never ever use a large barrel nail drill bit in or near the cuticle area! Otherwise, it will damage the nail, known as (rings of fire).
CRYSTALUM UNC (
Under-Nail Cleaner)
The "UNC" nail drill bit is under nail cleaning bit. Undernail cleaner drill bit shape is pointed and small.  Drill bit in this shape helps to clean under the nail, also helps in tight spaces. This drill bit used not just for under the nail cleaning, but also for the nail sidewalls. Some nail technicians also use this bit for creating holes for 3D objects within the nails.
CRYSTALUM Flame/Bullet Bits
The Flame or Bullet shaped Nail drill bit has a long, slim and tapered shape. Flame or Bullet shaped Nail drill bits used for many purposes; preparing the cuticle area and sidewalls. As well as on the top of the nail.
CRYSTALTUM Cuticle Cleaner Bits
Cuticle cleaner is one of THE best things to help with reducing "lifting" when you are using acrylic, gel, gel polish or acrygel/Polygel to your nails.
It also works as another Efile to make sure that acrylic nails are as flush to your natural nails as possible in order to stop the nails from "lifting" when they are growing out and water getting between the nails, this will cause the acrylic to separate from the nail bed.
CRYSTALUM Safety Bits
Great nail drill bit to refine Acrylic / Gel nails, file around the cuticle area and side walls safely.
Can be used to remove artificial enhancements also in-fill cuticle work.
3 in 1 Revolutionary Nail Drill Bit
The New Drill Bits Every Top Nail Artist Is Swearing By!


It's no secret as a nail technician, the faster you can remove acrylic and replace your customer's nails with new beautiful works of art, the more customers you will have and the more money you're ultimately going to make. 
In this business, your calling card is the beautiful nails you can give your customers while getting them in and out of the chair in a smooth and quick manner. Now with Crystalum GritGradient Technology™, you can do both in record time!
You see, each drill bit has three different grit levels on it. This allows you to adjust the grit of your drill while you are working to remove or shape whatever product your clients currently have on their nails. 
Suitable for the left and right-hand users!
| | |
| --- | --- |
| The Black Ring Bit -  is the advanced drill that REALLY speeds up tough jobs, and is only recommended once you master the other two. The Grit Gradient on this drill ranges from medium - to coarse - and X coarse on the thick end. | |
The Blue Ring Bit - is your every-day drill for shaping and removing normal acrylic nails quickly. The grit gradient on this drill ranges from X fine at the thin end to medium at the thick end.
The Red Ring Bit - is your finest drill, perfect for beginners. At the small end, the cross-threaded drill grit is XX fine, which would even allow you to shape natural nails without damage. The middle of the drill has X fine grit, and the thick end is normal to fine grit.
These drill bits are totally one-of-a-kind and this technology cannot be found anywhere else right now.
-Our ceramic bits are very heat resistant, making them perfect for beginners, while the tungsten carbide drill bits are extremely hard, ensuring they will easily blast through any acrylic like a warm knife through butter
-FREE cleaning brush included with every 3 in 1 Revolutionary drill bit!
Money-Saving Strate...

Running a successful microblading or nail salon business isn't just about offering excellent services; it's also about smart financial management. ...

Read More

Lunar Precision: Ho...

The moon, with its mystical allure, has been believed to influence various aspects of life, from tides to moods. But could it also impact the resul...

Read More

Mastering the Art o...

Discover effective strategies for beauty professionals to handle client feedback. Enhance brand reputation and foster client trust with our compreh...

Read More